March 18, 2017 12:33 am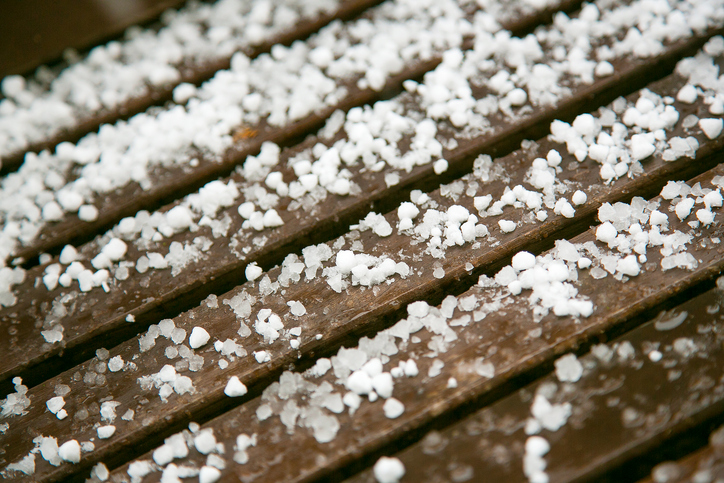 Warmer months may mean less snow trouble, but they bring about their own slew of weather-related dangers. These include floods, electric storms, and in some instances, hail. As a homeowner, there are things you can do to prep for hail hazards.
Prepare your home's exterior.
Take the time to reinforce roofs before storm season hits. Hurricane straps or clips can be installed to help secure the roof-to-wall connections.
Secure your windows with storm shutters
. Don't have shutters? You can make do with soft protective coverings, like blankets, in your home away from windows. You can also use them to help shield yourself from any flying debris.
Consider bringing outdoor items inside to protect them.
If you can't get them all inside remember to protect glass tables and secure lawn furniture/umbrellas and trash receptacles.
Stay inside during a hailstorm, if possible
. Try to stay away from skylights and doors. Close drapes, blinds or window shades to prevent the wind from blowing shattered window glass inside. Be sure your family is safe and don't forget to bring pets inside, too.
Keep materials on hand to cover any broken windows
or other openings to your home. It's important to keep wind and water out of these areas to prevent further storm damage.
Don't neglect your roof gutters.
You can minimize the potential for water damage or even ice dams by keeping your gutters free of clogs and debris, and repairing sections of gutters or downspouts that have come loose.
Consider installing a sewer backflow valve
. Designed to temporarily prevent return flow into a home from sewer lines, this valve can come in handy during periods of significant rainfall when the capacity of some sewers may be exceeded and a combination of storm water and wastewater could be released into your basement.
Landscape with a purpose.
Moisture-seeking trees, bushes and shrubs can infiltrate very small cracks in sewer pipes and, as their roots grow, can widen cracks and cause blockages. A plumber can intervene to get to the "root" cause.
Keep an eye on your French drains.
These drains are a great way to keep outside water from coming into your house. However, you need to make sure that your French drains aren't connected to your sanitary sewer as the water from the drains can create sewer backups.Source: http://www.farmers.com/news/seasonal-smarts.
Published with permission from RISMedia.